ANITA CAZZOLA / MANI D'ORO
ART ON THE (VIRTUAL) STREET 2021
ANITA CAZZOLA / MANI D'ORO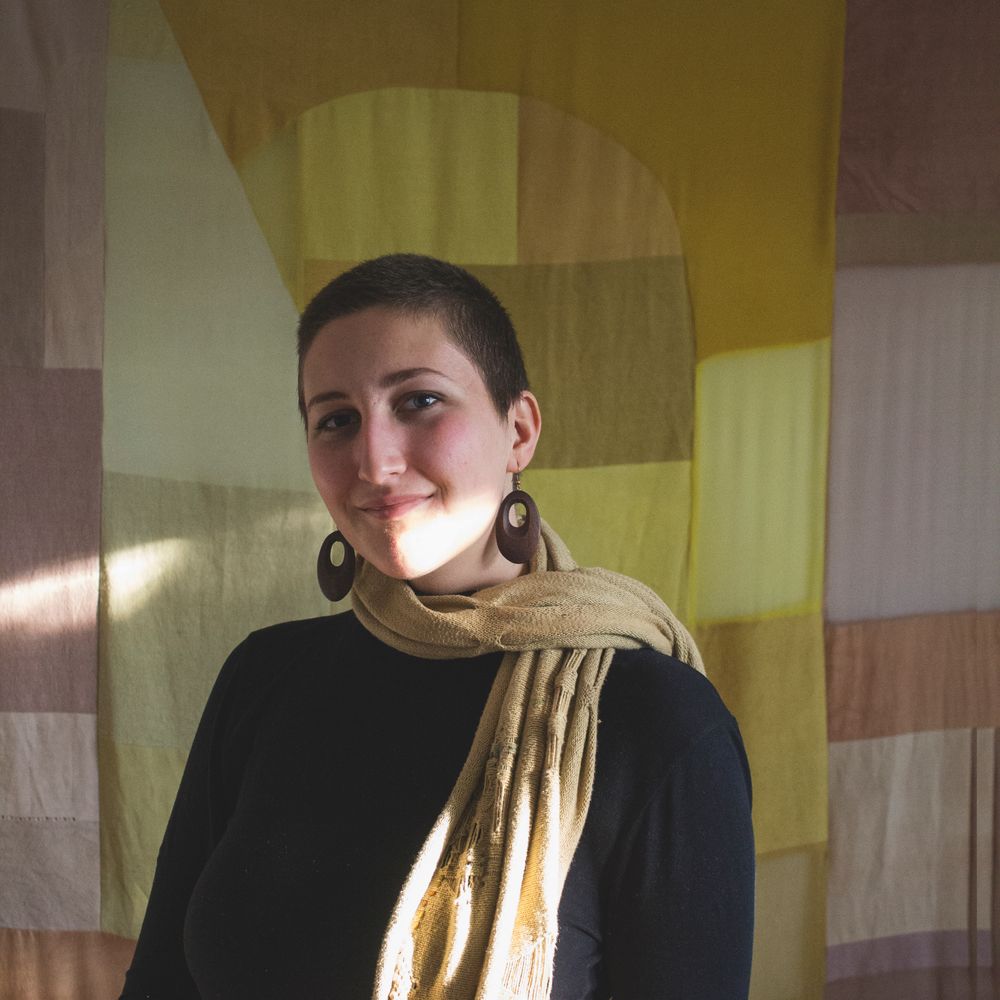 ABOUT THE ARTIST
ANITA CAZZOLA
Anita Cazzola's work inhabits the intersections between textiles, geology, geography, and the built human environment. Exploring the material and metaphorical complexities of cloth and geological forms, Anita reconsiders the destructive assumptions of decay and disintegration as means of resistance, reclamation and healing. She asks, how are our contemporary methods of delineating and constructing space (digital maps, rigid architecture, boundaries, and borders)  mediating our connections to land and environment? These gridded structures are broken down, bent, curved, softened, and remade out of malleable materials to undo and reframe their resilience. 
Her artistic practice flows seamlessly into her mending practice. Anita's goal through Mani D'oro is to disseminate repair skills and knowledge with a wide variety of communities to encourage sustainable textile maintenance, and increase awareness of textile lifecycles. 
She sees mending as a celebration of the life lived within a garment. Our bodies are in constant relationship with cloth, almost as if cloth is a second skin. While some may see holes as a loss or failure, Anita sees a new potential for expansion. Drawing new lines and adding depth & texture, mended holes are symbols of our resilience. 
Anita Cazzola is a textile and installation artist from Guelph, ON. She completed her BFA at OCAD University in 2018, where she studied Sculpture and Installation and minored in Material Arts and Design with a focus in Textiles.  Anita has begun to exhibit her works within Ontario in solo and group exhibitions including Abbozzo Gallery, Toronto, ON; 10C, Guelph, ON; and Propeller Gallery, Toronto, ON. She attended an artist residency at the Haystack Mountain School of Crafts (Deer Isle, ME) in August 2019, and is currently the 2021 Artist in Residence for the City of Guelph. During this residency, she is working on a natural dye project titled "Botanical Reclamation" - more details can be found below.